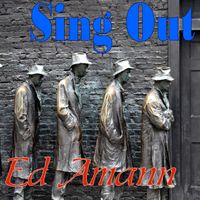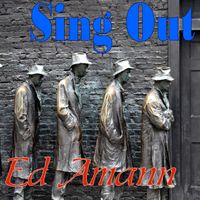 Ed Amann and Podunk are back with a user friendly reminder to consider those who fall between society's cracks. Lots energy and twelve string jangle here to make a somewhat harsh message go down a little easier.
"Sing Out" is sort of a "finger pointing" song. Just a call to consider the many folks who try to do the right things every day and still end up suffering. We are all in this world together, like it or not. The time for hate is running out very quickly.
Podunk is Ed's virtual band. They are Ed Amann, vocals and lead guitar, Eddy Appleseed, vocals and rhythm guitar, Edward L, Bass guitar and P. C. Bot, drums.

Lyrics
Sing Out


Verse 1:
She sits alone each day at lunchtime,
Kids think she's a fool,
She goes home and looks after mother,
Each night after school,

Chorus:
Sing out for the disaffected, *
The under loved and unselected,
Sing for the ones who try each day,
And fail but have no other way.

Verse 2:
See the beggar on the corner,
Picture being in his shoes,
Think about what put him there,
Wonder, could you pay those dues?

Verse 3:
Take a drive down to the shelter,
See the people there,
People living with their troubles,
Do you have the time to care?

Instrumental: 1 verse

Bridge:
Consider just for one small moment,
What sets you above,
Could it be we're not that different?
Can we find some room for love?